Welcome to the Official CSUF Psychology Peer Mentors Website!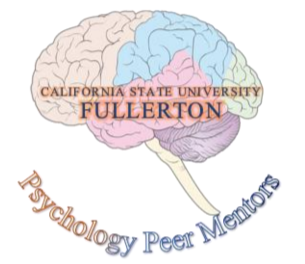 Contact Us
Location: H-525B (Inside the Psychology Lounge)
Email: psycmentors@fullerton.edu
Follow Us on Instagram: @ csufpsychmentors

Click here for our flyer!
Our Mission
As Peer Mentors in the Psychology Department, it is our goal to provide a wide variety of useful information to undergraduate students. Psychology Peer Mentors offer easily accessible services ranging from class schedules to graduate planning in a friendly and casual environment. Come visit us during our office hours. Appointments, emails, and Zoom drop-ins are welcome!!
See Us Today For Questions Concerning:

Classes
Not understanding something? We can help with the majority of classes. Some of our specialties include Research Methods/Stats, Biopsychology, Cognitive Psychology, and Psychological Testing and Assessment. Come stop by if you need help with homework or studying!
APA Style Writing
APA style writing is the standard format for writing research papers in the field of psychology. If you need help on formatting or reporting results in APA, come visit us.

Psychology Minor/Major Requirements
Students need to take courses that meet the requirements for a Major/Minor in Psychology. If you want to know what classes to take, come and visit us.

Graduate School
Students who are planning to attend graduate school must know deadlines and specific requirements to enter the graduate program. Come visit us if you want to learn more about graduate school.

Psychology Clubs
Students should get involved in psychology clubs. Being in an interactive environment with other students can enhance their experience. If you want to know more about clubs and organizations, we can discuss it during our office hours.

Psychology Degrees
Which degrees are you planning on pursuing? Are you pursuing a BA degree, MA degree, PsyD degree, or PhD degree? What career opportunities can you achieve with these degrees? If you want more information, we can discuss additional questions during our office hours!
News and Updates
CSUF Gmail is no longer available. All student email accounts have been migrated to Office 365 Outlook

. Email app users you will need to update the app settings to use Exchange

. From this point forward, Psychology Peer Mentors emails will be sent to CSUF students' Office 365 Outlook email accounts, not their CSUF Gmail accounts.
---
There will be no office hours during finals week.
---