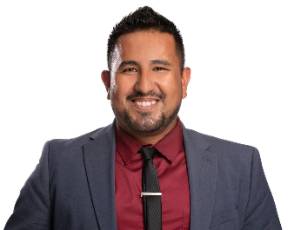 Office Phone: 657-278-7118  
Office: H-725E
California State University, Fullerton
800 N. State College Blvd., Fullerton, CA 92831
Department of Psychology
P.O.Box 6846
Fullerton, CA
92834-6846 
James J. García, PhD (He/Him/Él) 
Assistant Professor of Psychology
Dr. García is an Assistant Professor of Psychology at Cal State Fullerton. He received his Ph.D. in Clinical Health Psychology from the University of North Texas. He completed his Pre-Doctoral Clinical Internship at the Southern Arizona VA Health Care System and a Postdoctoral Fellowship in Clinical Health/Rehabilitation Neuropsychology at Casa Colina Hospital and Centers for Healthcare. Clinically, he has worked with medical populations for over a decade, delivering health psychology interventions and neuropsychological evaluations to communities of color, Spanish speakers, and racial/ethnic LGBTQ+ patients across the continuum of medical care. His research focuses on racial/ethnic and LGBTQ+ People of Color health disparities. He has published work in cardiovascular diseases, Latinx health, and has an edited book published book on racial/ethnic LGBTQ+ health disparities. Currently, he is an Editorial Board Member of four flagship journals in his field, Cultural Diversity and Ethnic Minority Psychology, Annals of Behavioral Medicine, Annals of LGBTQ Public and Population Health, and Health Psychology, where he reviews hot-off-the-press science on racial/ethnic LGBTQ+ health disparities. In addition to research and clinical work, Dr. García has been involved in national and local community-based organizations, including his leadership role as Vice President of Outreach and Community Engagement for the Pomona Pride Center. Currently, he is the Chair of the Interprofessional Health Committee of the Stroke Council and is part of the Stroke Leadership Committee of the American Heart/Stroke Association. 
Education/Training:
2020 Distinguished Faculty Fellow, Center for Health Equity Research (CHER), CSU Long Beach
2019 Certificate in Effective Instruction Association of College and University Educators (ACUE)/American Council on Education (ACE)
2018 Postdoctoral Fellowship: Clinical Health/Rehabilitation Neuropsychology, Casa Colina Hospital and Centers for Healthcare
2017 PhD: Clinical Health Psychology, University of North Texas [APA-Accredited Clinical Psychology Program]
2016 Predoctoral Clinical Psychology Internship [APA-Accredited]: Southern Arizona Veteran Affairs Health Care System
2014 Master of Science in Psychology: University of North Texas
2010 Bachelor of Arts in Psychology: California State University, Northridge
My research focuses on bio-behavioral and psychosocial risk and resilience factors (including racial/ethnic and intersectional discrimination) associated with health disparities for communities of color and LGBTQ+ People of Color (PoC) in physical disease processes, including cardiovascular diseases, stroke, neurocognitive disorders, and HIV infection. I examine racial/ethnic and LGBTQ+ PoC health disparities via experimental research designs, psychophysiological technology, self-report surveys, neuropsychological assessments, and hospital data on inpatient rehabilitation functioning. I also publish articles on training/mentorship in health professions and higher education. 
If you are interested in joining my research lab (CSUF Psychophysiology and Social Interactions Lab), please visit my website: psychology.fullerton.edu/psi 
If you want to apply to join the lab: https://psychology.fullerton.edu/psi/JoinUs.html 
I mentor/train CSUF Graduate (MA/MS) and Undergraduate Students. For MA/MS students who want me to chair their thesis, I require them to work with me for at least one semester--often, students use PSYC 599 to fulfill this. 
Teaching at CSUF:
PSYC 474 Health Psychology
PSYC 476 Racial/Ethnic Health Psychology
2022-2023:
The Center at Sierra Health Foundation MAT Access Points Project Opioid use and stimulant use prevention and recovery services in LGBTQ2S+ community (Contract # CA22MAT012)"Knowledge and Art is Power: Awareness of Substance Use Risk/Prevention"
Funding Agency: State of CA Department of Health Care Services
Amount: $250,000
PIs: Submitted by Dr. García on behalf of the Pomona Pride Center (non-profit 501c3) 
Spring 2023: Mondays & Wednesdays from 12:50pm--2:20pm in H-725E (in-person only)
CSUF PSI Lab Instagram: csuf_psi_lab