Psychology Advising
The Psychology Advisement Office is located on the 8th floor of the Humanities Building in H-830J.  
*The Advisement Office is only open for scheduled appointments. Walk-ins are not accepted*
During your first semester taking courses in the department, and at any time during your undergraduate coursework, you may schedule an appointment to speak with the advisors. At these meetings, your advisor will conduct a preliminary evaluation and/or advise you of the psychology courses you need to complete for the major or minor.
It is highly encouraged that you make an appointment by following the link below. Also, be aware of registration windows as that is a high-volume time for the office, and the odds of getting an appointment before your registration date decrease dramatically if you wait. If you are a transfer student in need of quick advice, please see our "Quick Advisement Guide" down below.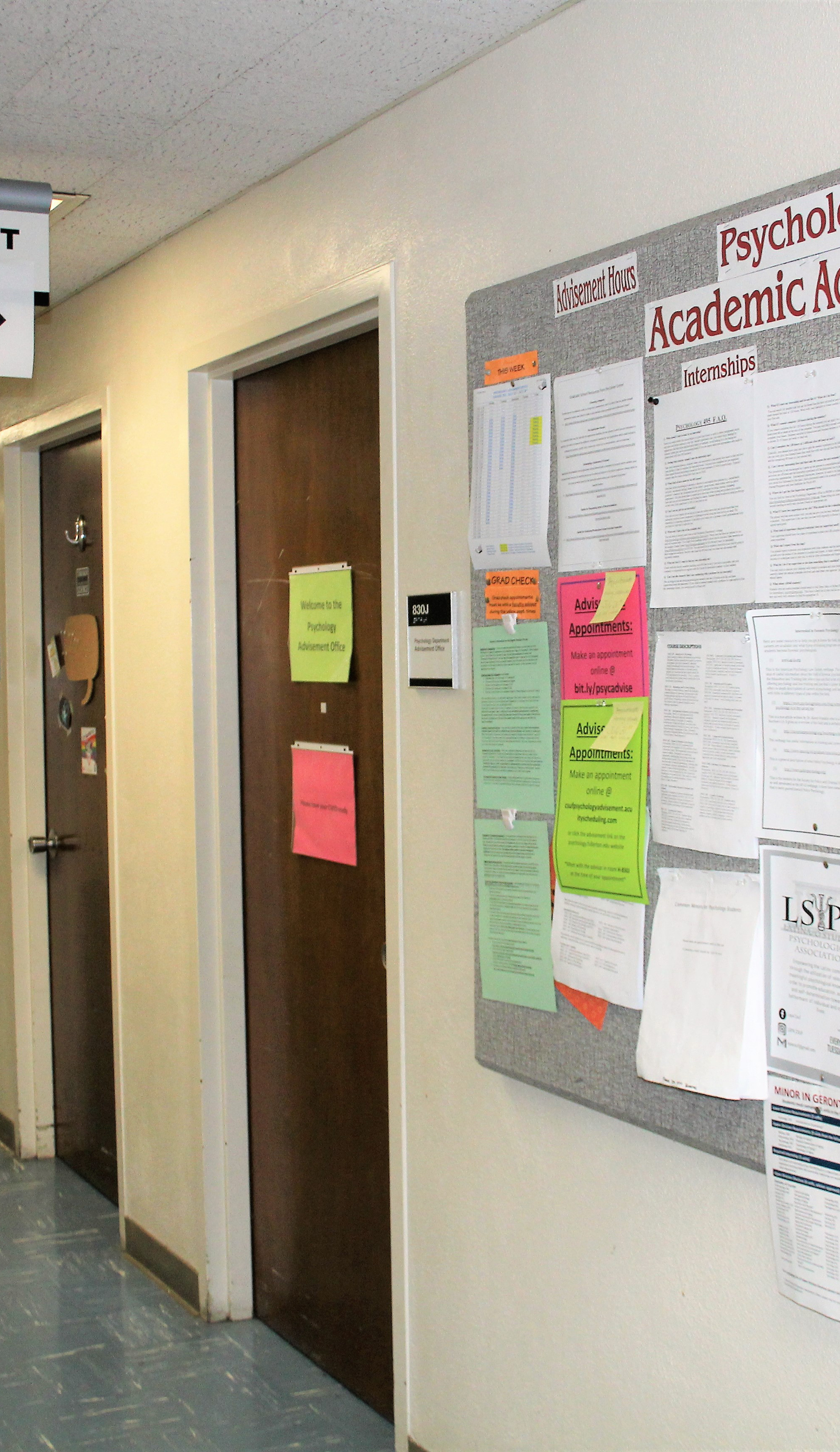 Students:
Please note the following guidelines if you are preparing to graduate..
- If you are unsure of your anticipated graduation date, please make an appointment to map out your last few semesters and get an idea of when you will complete your degree.
- If you do know the semester you will be graduating, apply for graduation in your student center and allow 24 hours for it to process. From there, you must make an appointment to meet with a faculty advisor. Please note, you do   not   have to pay the $115 gradution fee immediately. You have until your graduation term's specified deadline.
Important Dates for Graduates
Summer 2021 Graduation:  Complete your Grad Check and pay the fee by March 26, 2021. 
Be sure to visit the general academic advising for GE class requirements and questions. They are located in GH-123B and can also be reached at 657-278-3606.
Students:

 

If you are looking to make a 

Grad Check

 appointment, please note the following guidelines:

-If you are unsure of your anticipated graduation date, first make a General Advising appointment to go over your TDA. Once you and the advisor have created a timeline, you may follow the steps below.

 

- If you know your anticipated graduation date, you may apply for graduation for the appropriate term (i.e fall, spring, summer). From there, you may make a Grad Check appointment with one of our faculty advisors. The system takes 24 hours to register your application, so do not make an appointment the same day as applying. You do not have the pay the $115 graduation fee until the deadline, but you may still complete your Grad Check with a faculty advisor.
Explore other parts of the Psychology web site to find more information on the Peer Mentors, psychology clubs, internships, and course requirements.